The goal of an author is to find his or her own unique voice, distinct from all writers before. Some struggle for years to find the right style or tone, and others seem to happen upon their voice by accident. Fay Weldon is decidedly in the latter camp. An extremely prolific British writer now in her 80s, Weldon tells her stories with stark honesty and effortless wit, and she doesn't care one jot what the critics say.
Weldon spent her youth in New Zealand until the age of 14, when her parents divorced and she moved back to England with her mother. An unexpected pregnancy during her university years led Weldon to leave her studies and marry young. Her first husband, Ronald Bateman (not the father of her child), was 25 years her senior and a thoroughly apathetic spouse. Weldon wrote frankly about this time period in her autobiography, Auto de Fay; the text includes stories of being prostituted out to her husband's friends and acting as a nightclub hostess. She left after two years.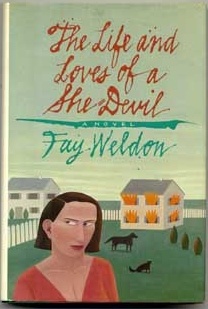 During her 20s, Weldon worked in the advertising industry, and her biggest claim to fame is the "Go to Work on an Egg" campaign, which promoted eggs as a healthy breakfast food (the slogan was used in one way or another until 2007). She met her second husband, Ron Weldon, when she was 29. They had three children together, and it was during these years of working motherhood that Weldon began to write for radio, television, and her own literary endeavors. Fans of the 1970s British television show Upstairs, Downstairs (a kind of precursor to Downton Abbey) may recognize Weldon's style in the first episode, though only three of her scripts were shot; the actors complained that her lines were too difficult.
Unfortunately, Weldon's sensational marriage streak wasn't finished yet. She and Ron Weldon divorced after 30 years in 1994 because his astrological therapist told him their signs weren't compatible. Weldon then married Nick Fox, who acts as her manager, and this one seems to be sticking.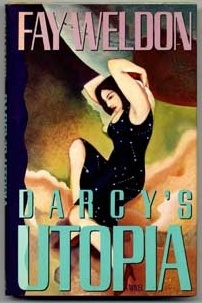 Weldon's first novel, The Fat Woman's Joke, was released in 1967, and her pen has not stopped since. Her books often feature women hemmed in by society and the British patriarchy. For this, she's been deemed "a women's writer" and a feminist – a title which she embraces, while at the same time making remarks which anger other feminists (saying rape "isn't the worst thing that can happen to a woman if you're safe, alive and unmarked after the event," for example). Weldon was also criticized for accepting £18,000 from Bulgari jewelers to write The Bulgari Connection, possibly the most blatant act of literary product placement by an established author ever.
Despite this public criticism, Weldon remains unapologetic and carefree. She giggles her way through interviews, shamelessly bearing her thoughts and experiences, yet coyly guarding those details that remain personal. And her readers love that quality about her: speaking simple truth to the everyday bits of life and adding plenty of spice along the way.