It's February 1952 and aspiring novelist Ian Fleming sits at a desk in his Jamaican, beachfront bungalow with a head full of ideas for a spy novel about gambling, espionage, and international intrigue. The writing comes easy, a little in the morning and a little in the evening, and in less than a month Fleming completes a draft of a novel that would launch a multimedia empire audiences worldwide have adored for more than 50 years.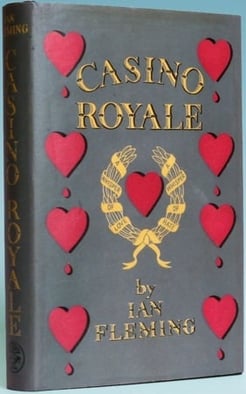 The novel? Casino Royale, the world's first introduction to 007 James Bond, British MI6 super-spy recognized the world over for his love of flashy cars, seductive women, and martinis—always shaken, never stirred.
But before Fleming's Bond character vaulted into the literary and pop-culture stratosphere, the novel Casino Royale was nothing more than a faint wisp of an idea that had been nagging at Fleming for years after his own service as a spy during World War II.
The novel—which follows Bond to Royale-les-Eaux in Northern France for high-stakes gambling against a feared member of the Russian secret service—had been percolating while Fleming worked a number of jobs in the newspaper industry immediately following the war. Many of the characters within the novel—as well as in the other Bond novels Fleming authored—were based on colleagues or subjects of articles published in the paper.
Casino Royale was an instant hit upon release in the U.K., selling out its first printing in just one month, and its success throughout England sparked similar, if not more gradual commercial appeal in the States. Given February is the 64th anniversary of Fleming's start on that initial draft, here are five facts about Casino Royale you should keep in mind the next time you crack the cover.
1. Goldeneye
No, not the 1995 Bond film starring Pierce Brosnan, but rather that's the name Fleming gave to his beach-side home in Jamaica where he wrote and edited much of Casino Royale. A fairly modest bungalow located on Oracabessa Bay on the northern coastline of Jamaica, Goldeneye eventually became Fleming's primary writing retreat for the rest of his career. The name stems from Operation Goldeneye, a World War II-era contingency plan Fleming helped develop while working for Britain's intelligence services in the event of a Nazi invasion of Gibraltar through Spain. Fleming purchased the land in 1946, years before beginning Casino Royale, and he even designed the home himself.
2. 2,000 words
Fleming's process for composing the first draft of the novel, which he completed in March of 1952, was simple, straightforward, and very workman-like. Whereas some novelists work in bouts of frenetic, creative frenzy at all hours of the night, Fleming would wake every morning, work for three hours, break in the afternoon to explore the island, and then return for another hour of work in the evening. Fleming's goal was 2,000 words per day, and in a 1963 interview with the British magazine Books and Bookmen, Fleming said: "I write for about three hours in the morning...and I do another hour's work between six and seven in the evening. I never correct anything and I never go back to see what I have written...By following my formula, you write 2,000 words a day."
3. James who?
"My name is Secretan…James Secretan." Doesn't quite have the same ring to it, right? But that was the original name of Fleming's titular spy. While it's hard to pinpoint when exactly Fleming made the change from Secretan to Bond, we do know the Bond name is derived from that of noted ornithologist James Bond, author of Birds of the West Indies. Scholars of Bond lore allege Fleming's initial conception of Bond was an ordinary man whom extraordinary things happen to, and the name James Bond was one of the most boring, uninspired names he'd ever come across. In an April 1962 issue of The New Yorker, Fleming is quoted as saying: "I wanted him to be a blunt instrument...when I was casting around for a name for my protagonist I thought by God, [James Bond] is the dullest name I ever heard."
4. Bond's appearance
Bond historians and aficionados have made much about Bond's appearance in the original novels versus the translation to the big screen in Sean Connery's portrayal of 007, but Fleming's initial conception of Bond's physical appearance was based on two real-life individuals: himself—as with many writers—and American singer and songwriter Hoagy Carmichael.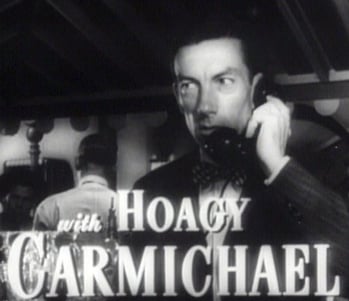 Little is known as to why Fleming centered on Carmichael as the blueprint for Bond's looks, but one can see the appeal in Carmichael's stoic, steely glare and no-nonsense facial expression. Carmichael wrote and performed some of the most iconic American standards including Georgia On My Mind and Heart and Soul.
5. Casino Royale as distraction?
Though Fleming maintained in interviews following the publication of Casino Royale he had desired to become a novelist for a number of years, friends and confidants asserted Fleming's actual impetus for putting pen to paper was as a distraction from his impending marriage to Ann Charteris, a woman with whom Fleming had a long affair. At the time of their meeting in the mid 1940s,Charteris was married to Esmond Harmsworth, 2nd Viscount Rothermere and a conservative British politician and owner of several major British news publications, including The Daily Mail. The divorce between Charteris and Rothermere was highly publicized and those close to Fleming say his two-month holiday to Goldeneye and eventual writing of Casino Royale was something of a respite from the chaos of his relationship with Charteris.
Perhaps Bond's complicated relationship with women was less an effect and more of a mirror into Fleming's own inner turmoil.