Chief expositor of the "Jazz Age," F. Scott Fitzgerald's name has become synonymous with the 1910s, '20s, and '30s. No other literary figure proffers the pictures of that generation like Fitzgerald does through his four novels and numerous short stories. Born in 1896, the experience of his characters in the first few decades of the twentieth century is largely contemporaneous with his own. Even outside of This Side of Paradise, explicitly described by the author as semi-autobiographical, rarely can we find a story of Fitzgerald's not permeated with similar autobiography: in fact, we often times see very obvious correlations between Fitzgerald's character's lives and his own. Here are five interesting facts about F. Scott Fitzgerald.
Becoming "The Rich Boy"
After flunking out of Princeton and joining the army, Fitzgerald began writing his first novel, This Side of Paradise, for fear that he would be killed in the Great War (for which he was never deployed). He struggled to produce anything anybody was interested in publishing; however, while stationed outside of Montgomery, Alabama, Fitzgerald fell in love with Zelda Sayre, the daughter of a state supreme court judge. Fitzgerald's financial situation was, to put it frankly, quite poor, and after a short engagement Sayre discontinued their relationship. Dismayed, yet newly motivated to win back his engagement to Zelda, Fitzgerald quit his job as an adman in New York City, moved back to his parent's house and began to continuously revise The Romantic Egoist into This Side of Paradise. After two years, Scribner agreed to publish it. 3,000 copies were released on March 26, 1920. By March 29, all 3,000 had sold out. On March 30, Fitzgerald wired for Zelda to come to New York and marry him that weekend. On April 3, they were hitched.
Sound familiar? Jay Gatsby and Daisy Buchannan's relationship draws obvious parallels. Gatsby, like Fitzgerald, is rejected by his partner because of his financial situation. While Fitzgerald's success allowed him to marry Zelda, the power of that money present in Fitzgerald's life proves futile for Gatsby. The end of The Great Gatsby's protagonist, his lost love and eventual death, represents a marked departure from the Victorian sentiments of the generation before, for whom money and tact were apt solutions to most high-social problems.
This contrast between early Fitzgerald's optimism about money and his later pessimism, is never more evident than in the interplay between This Side of Paradise and his later short stories like "The Rich Boy."
A Farewell to
(Friendship)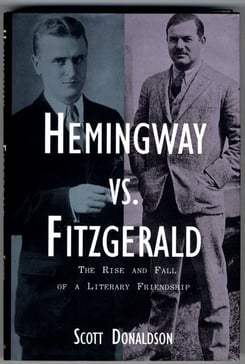 Ernest Hemingway, the other chronicler of the "Lost Generation," and F. Scott Fitzgerald were, at one point, quite close. They spent time together in Paris amongst the leagues of expatriated literary figures, and Fitzgerald was a crucial editor for Hemingway's 1926 novel, The Sun Also Rises. Despite the immediate success of The Sun Also Rises — which was in great part due to Fitzgerald's assistance — Hemingway, in unsurprising fashion, reacted quite sharply against Fitzgerald, perhaps feeling himself made small by Fitzgerald's immediacy and influence over his first novel. Scott Donaldson notes in Hemingway vs. Fitzgerald: "Hemingway felt a compulsion to dominate, to lord it over others and Fitzgerald had a complementary need to be dominated. If Ernest liked to kick, Scott wore a sign on his backside saying 'Kick Me.'"

Hemingway, for the rest of Fitzgerald's life, and even moreso after his death, abused him and drove him away, calling him a coward and a lap dog, ridiculing Fitzgerald to his friends. Fitzgerald later recalled the lost friendship with regret.
This Side of Paradise (Lost)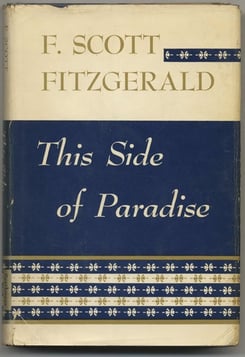 "God damn the continent of Europe . . . I think it's a shame that England and America didn't let Germany conquer Europe," wrote Fitzgerald while in London. The author's optimism about the continent displayed by Amory Blaine in This Side of Paradise was quickly lost upon his personal familiarization with it. After two frustrating months in Europe, Fitzgerald returned to the States and began revising The Beautiful and Damned into the novel of pessimistic realization we know it to be today.
Save Me the Waltz
In 1932, Zelda Fitzgerald was admitted for psychiatric treatment under Doctor Adolf Meyer, specializing in schizophrenia. As part of her therapy she was asked to spend two hours writing daily. Eventually one of the residents working with Zelda wrote to Fitzgerald that there was a novel in the works and sent along portions of what Zelda had written. At the time, Fitzgerald was working on Tender is the Night, and Zelda's novel drew on many of the same elements of their personal life together. This outraged Fitzgerald and once Zelda had finished a working manuscript, he promptly revised the piece until it suited him.
Despite nearly complete public disdain for her first novel, Save Me the Waltz, Zelda began writing a second novel based on her experiences in the psychiatric hospital. This one, however, did not go down very well with her husband who called the novel plagiaristic and unwise, accusing Zelda of being, "a third-rate writer and a third-rate ballet," with which her psychiatrist concurred. The second novel was never published.
The Great (Fitzgerald)
Fitzgerald died on December 21, 1940 at the age of 44. A life-long struggle with alcoholism and two heart attacks in the late 1930s left Fitzgerald very weak. The two flights of stairs from his ground floor apartment to his mistress, Sheilah Graham's apartment was enough to leave him winded and dizzy.
On the eve of his death, Fitzgerald and Graham attended the premier of This Thing Called Love. While leaving the theatre, Fitzgerald became dizzy. The next morning, eating a candy bar and making notes in his Princeton Alumni Weekly, Fitzgerald jumped from his seat, gasped and fell to the floor, dying of a heart attack.
In one final posthumous, auto-biographical twist, Dorothy Parker, at Fitzgerald's funeral, remarked whilst crying, "the poor son-of-a-bitch," Owl Eyes' famous final remark in The Great Gatsby. Fitzgerald's discontentedness, despite earning the equivalent of nearly five-hundred thousand dollars in today's money for screenwriting, was typical of Jay Gatsby: Parker's allusion was no stretch.