Few things are as horrifying and culturally significant as the Holocaust. For most, it is difficult to comprehend the terrors faced both inside and out of the concentration camps. The works of authors, both fictional and biographical, help readers to gain a small glimpse into life for Holocaust victims, even as no form of media will ever adequately display the horrors.
Here are five powerful Holocaust books.
1. Night by Elie Wiesel
Published in 1960, Night records Elie Wiesel and his family's experiences in German concentration camps. Wiesel describes how in 1944 his family was taken to Auschwitz and eventually to Buchenwald. He discusses the horrors faced in the camps, the deaths of his family, and his struggle to find God and understanding while being subjected to such cruelty. Night is considered by many to be one of the greatest masterpieces of Holocaust literature.
2. The Diary of a Young Girl by Anne Frank
The Diary of a Young Girl chronicles the experiences of Anne Frank during WWII. She explores her life living in an attic in Holland with her family and another Jewish family while hiding from the Nazis. Throughout the book, she discusses the realities of living in seclusion and difficult conditions while under constant threat of discovery. Since its publication in 1947, Frank's work has been published in more than 60 languages and is widely read by schoolchildren and adults alike. It has become a powerful reminder of the turmoil faced by Jews during WWII both in and out of concentration camps.
3. The Boy in the Striped Pajamas by
John Boyne
The Boy in the Striped Pajamas tells the fictional story of Bruno as his family moves from Berlin to Auschwitz after his father is promoted to Commandant. Bruno, not understanding that he is living next to a concentration camp, befriends Shmuel, a Jewish boy being held in the camp. As their friendship grows, Bruno sneaks into Auschwitz by wearing the prison garb he thinks of as striped pajamas to help Shmuel find his family. After publication in 2006, the novel reached number one on the New York Times best seller list and went on to sell more than five million copies.
4. Schindler's List by Thomas Keneally
Schindler's List, originally released as Schindler's Ark in Australia, is a historical fiction novel based on the true actions of Oskar Schindler during WWII. As a member of the Nazi Party, Schindler found himself in a unique position to help save Polish Jews from the death camps. The novel follows his actions during the war and friendship with Holocaust survivor Polderk Pfefferberg. In order to have Schidler's story told, Pfefferberg convinced Thomas Keneally to write the novel. First published in 1982, the novel won the Los Angeles Times Book Prize for Fiction in 1983 and was adapted into a film by Steven Spielberg in 1993.
5. Number the Stars by Lois Lowry
Lois Lowry's Number the Stars follows the story of Annemarie Johansen and her friend Ellen Rosen as they face the dangers of Nazi occupied Copenhagen. When Nazi's start relocating the Jews, Ellen's family flees, leaving Ellen to pretend to be Lise, Annemarie's sister who died the previous year, in an attempt to remain safe from persecution. After the Nazi's become suspicious, the family goes to Uncle Henrik's house to help Ellen and her family and other Jews reach the safety of Sweden. After publication in 1989, the novel received the Newbery Medal in 1990. The novel was adapted into a play in 1996 and Sean Astin has worked on adapting it into a film.
Interested in learning more about Elie Wiesel? Read on.
Nobel laureate Elie Wiesel passed away on July 2, 2016. Wiesel was born in Sighet, Romania in 1928, and is best known for his voice as a Holocaust survivor and advocate for peace. Wiesel's family was separated during World War II when the German army deported their Jewish community of Sighet to Auschwitz-Birkenau. His father died just weeks before the camp was liberated by American troops in 1945. After the war, Wiesel was reunited with two of his three sisters in France; his mother and youngest sister did not survive.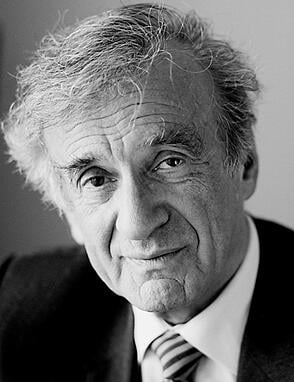 For ten years, Wiesel could not find the words to write about his experiences. Finally, a meeting with French writer Francois Mauriac convinced him to end his silence. His 900-page memoir in Yiddish, Un di velt hot geshvign (And the World Remained Silent), was condensed to 127 pages and published as La Nuit in France. When it was finally published in America as Night, Wiesel became a voice for Holocaust survivors everywhere.
Reflecting on his writing experience, Wiesel said, "I'd... say to a young writer, if you can choose not to write, don't. Nothing is as painful. From the outside, people think it's good; it's easy; it's romantic. Not at all. It's much easier not to write than to write. Except if you are a writer. Then you have no choice."
Wiesel's writings and humanitarian efforts earned him the Nobel Peace Prize in 1986. He continued to advocate for the Jewish people and victims of genocide around the world. Read more >>