First published in April of 1899, Fly Fishing by Sir Edward Grey embodies the qualities that make first editions in angling literature such attractive collectibles. Written in a warm and intimate style, this book is an engaging and thoroughly delightful piece of literature which effortlessly throws down a sturdy bridge between Grey's world and ours.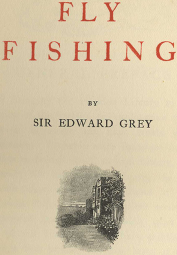 Unlike many publications of the 19th century, where part of the attraction is a glimpse into a radically different age and culture, this book captivates the reader with a countryside and sport that is intriguingly similar to what we know.
Part of this achievement is due to Grey's charming writing style. For example, his description of the redeeming virtues of the split cane fly fishing rod would be completely at home on the pages of a P.G. Wodehouse novel: "Split cane is the most staunch of all materials; like an old and faithful servant, it is incapable of treachery or sudden change, and when it fails it does so gradually."
The other part of Grey's achievement is the relevance and value of his fly fishing expertise to anglers waking up tomorrow to wade in the currents of the Test and Itchen rivers. Certainly his knowledge of those rivers is as useful now as it was in 1899 because they've remained almost unchanged. When Fly Fishing was published, all British fly fishermen knew the Itchen and Test rivers were excellent chalk stream trout rivers. Today, acknowledged as the very best chalk stream rivers in England, they have – if anything – bumped up a notch.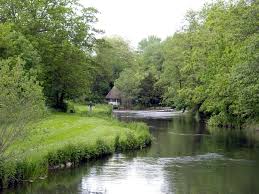 Grey does betray the yawning gulf of years by his use of the nickname 'Old Barge' for the Itchen river. That nickname, little used today, refers to eleven miles of canal improvements authorized by Parliament for Itchen in 1665 and completed in 1710. Regardless, the physical appearance of the rivers, captured in the book by engravings, seems almost completely the same as present day.
Another way the reader realizes the distance of Grey's era is in his discussion of trout population and sizes. When writing of declining catch sizes, he makes an observation completely at odds with today's "catch and release" policies enforced on most trout streams. "Any given stretch of river, will keep alive a much larger total weight of trout than it can fatten. It is easy to do this at the expense of the condition of the fish, and so to ruin the sport for the time being."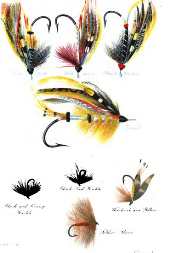 In fact, present day anglers on the two rivers can only dream of the successes Grey casually references in his comments on fishing experiences. A pleased Test angler recently commented on a fishing guide's website, "On one day I caught my five largest brown trout ever, each weighing over two pounds." Grey, on the other hand, says, "One often reads of days with many three, four and even five pounders on parts of the Test or Kennet..."
Size of fish and outdated discussions of fly fishing tackle aside, this book is as valuable for today's chalk stream fly fisherman as ones from contemporary authors. Grey speaks to fly presentation tactics that are as relevant and detailed as any Orvis guide. Drawing on years of experience and conversations with legendary British fly fishermen such as Francis Francis (A Book on Angling, 1867) and George Selwyn Marryat (known as the "Prince of Fly Fishers"), he provides information on fishing strategies for fall, winter, spring and summer, along with guidance on casting angles and landing techniques.
Grey even gives recommendation on best flies to use for trout. What fly fisherman wouldn't dream of catching fish in either of those rivers on a Sir Edward Grey recommendation from 1899?