Twentieth century San Francisco was a hotbed for creative thinking and artistic pursuits, including those of fine press printers. Robert Grabhorn and his brother Edwin had the most heralded press in the city for nearly half a century. Indeed, Grabhorn Press set the standard for typographic ingenuity and artistic mastery. When the press closed in 1965, younger brother Robert joined forces with a printer by the name of Andrew Hoyem who had worked for Grabhorn in the 1960s. Together, the two continued their fine press efforts, publishing impressive limited edition books including an edition of Allen Ginsberg's "Howl". When Grabhorn passed away, Andrew Hoyem continued their press and in 1974, he renamed it Arion Press. Today, Hoyem is considered one of the most distinguished printers of our time. He has published over 100 illustrated fine press books, all limited-edition, and most published on letterpress. Arion Press books are highly sought after by collectors due to their quality and limited release.
Arion books have been included in such impressive collections as the British Library and the Museum of Modern Art. The Press has printed books by James Joyce, Arthur Miller, Emily Dickinson, Allen Ginsberg, Virginia Woolf, H.G. Wells, and Samuel Beckett, among others. Arion's nonprofit Grabhorn Institute was recognized in 2000 by the National Trust for Historic Preservation. It is open to the public and holds tours of the various aspects of bookmaking. Collectors interested in Arion Press might want to check out the following examples of the beautiful books produced over the last forty years.
Moby Dick by Herman Melville

The Arion Press edition of this classic work is printed on handmade paper by Simon Barcham Green. The book was printed in 1979 so the paper was sourced before Barcham Green shut down production at the famous Hayle Mill. The book features woodcut illustrations from Barry Moser, including a portrait of Melville at the beginning. Its handsome blue morocco cover with silver lettering makes it a lovely addition to any collector's shelf. This edition—limited to 250 copies upon publication—now sells for upwards of $25,000 USD. Arion also produced thirty copies of a manuscript containing just Moser's illustrations which go for $15,000 USD.
The Holy Bible
Arion's edition of The Holy Bible (2000) had a limited release of only 400. What makes this edition extra special is that 150 of those feature illuminated hand-illustrated decoration on the initial letters. The initial letters were drawn by Sumner Stone, a font designer for Adobe, and in the 150 special edition versions, each letter is decorated to resemble stained glass windows. The bible is bound in crushed violet morocco boards with a black spine. The book comes in a black buckram box and is considered to be one of the most important to come from Arion Press. Attractive to both general book collectors and collectors of the Bible, mint condition copies cost about $9,000 USD.
The Physiology of Taste or Meditations on Transcendental Gastronomy
by Jean Brillat-Savarin
Translated into English by MFK Fisher, this book features full page illustrations and lithographs by pop artist Wayne Thiebaud, famous for his paintings of cakes. Notable for its full-color art, large size, and light blue color, this edition is sure to appeal to book collectors and food-lovers alike. The print run for this beautiful volume was limited to 200 copies, each signed by the artist. Collectors can purchase the book for approximately $6,500 USD.
Flatland: A Romance of Many Dimensions
by Edwin Abbott Abbott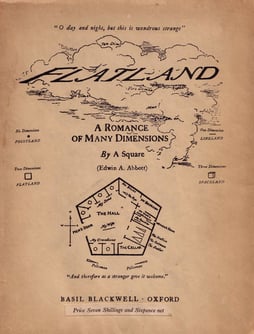 First published in 1884, Flatland was reprinted in 1980 by Arion Press, and was one of its most financially successful releases. Arion produced only 275 copies of the book, each signed by press founder Andrew Hoyem and by Ray Bradbury, who wrote the forward of the edition. The novella is printed folio style with an aluminum cover with black impressed lettering. The book also features a clasped aluminum container. Flatland is one of Edwin Abbott Abbott's only fiction books, with the teacher focusing mostly on theology and mathematics. Flatland has been adapted into several short films and has been referenced in pop culture in shows such as The Big Bang Theory, Cartoon Network's Gravity Falls, and Futurama. The book is a desirable collectible for those interested in science fiction, philosophy, social commentary, physics, and fine press editions. If the aluminum container is included, this book sells for about $6,000 USD.