English novelist Charles Dickens is indisputably one of the most important figures in English literature and perhaps the most financially successful of his Victorian contemporaries. Dickens published most all of his novels serially with installments appearing monthly and, in some cases, weekly. His novels, including such standouts as A Tale of Two Cities, Great Expectations, and A Christmas Carol, are counted among the great classics of English literature. His works have been adapted across multiple mediums. His influence on the language can be easily traced, with one notable example being his character Ebeneezer Scrooge, whose surname is a commonly-used sobriquet for the stingy and ungenerous. And the novel that kicked off this legendary career was The Pickwick Papers.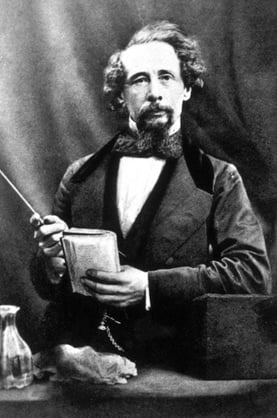 When Dickens was twenty-four, he was working as a journalist and had recently published a collection of illustrations on city life titled Sketches by Boz. These sketches proved successful enough to draw the attention of publishers Chapman & Hall, who sought him out to provide the text for a serialized picture novel with drawings done by renowned illustrator Robert Seymour. Though the subject of the novel—a sporting club going on excursions throughout England and having various misadventures—did not necessarily fall into Dickens' wheelhouse as he was neither an avid sportsman or outdoorsman, he agreed to take on the project. Though initially the assignment was to write captions and connecting text to work the illustrations into an easily-followed story, Dickens did not adhere to the illustrations he was given, instead letting his imagination take him and the members of The Pickwick Club where they may.
The Pickwick Papers, then, became less about the illustration and more about the story that Dickens wrote. Often times, the illustrations would have to be redone in order to coalesce with the story Dickens had crafted for that month's installment. Though the project began with Seymour as illustrator, he tragically committed suicide after only two installments. The publishers appointed Robert Buss as illustrator, but he only lasted one edition: Dickens did not care for his work. Interestingly enough, though it was Dickens' wish that Buss be dismissed, the artist remained a lifelong fan of his writing and many of his paintings depict Dickens' work. The artist Phiz was appointed next and he ended up illustrating the majority of Dickens' novels throughout his career.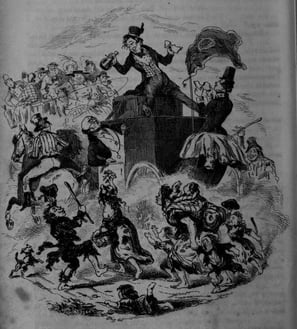 The Pickwick Papers was published over a period of twelve months in nineteen installments. It appeared every month, save one May in which Dickens missed a deadline due to the death of his sister-in-law.
The installments cost a shilling. The novel was an immediate hit. The characters were much loved at the time, with readers warming quickly to the eccentric Mr. Pickwick who served as the head of the club, and The Pickwick Papers became even more well-loved with the inclusion of Pickwick's cockney servant Sam Weller. So successful was the story that many artists, some of them quite well known at the time, began creating their own illustrations either to sell bootleg copies or in the hopes that the publishers would elect to publish other illustrations in subsequent issues.
This did not happen, however, and Phiz continued to illustrate every issue since his appointment. Many of these outside illustrations were collected, however, by noted art collector and exhibitor Joseph Grego. In 1899, Grego collected 350 illustrations by various artists as well as notes on the novel and stage adaptations titled Pictorial Pickwickiania.
The novel was so popular that Pickwick Clubs began popping up all over England, a fact that delighted Dickens as he was touched by the love readers had for his work. In fact, The Pickwick Bicycle Club is still meeting today, with each member taking on the name of one of the characters for the purpose of meetings and club events. It's popularity even allowed for Dickens to do a substantial amount of fundraising for the family of publisher John Macrone after his sudden death in 1837. Dickens collected Pickwick stories from a variety of authors, through solicitation and submission, and published The Pic-Nic Papers. The proceeds given to Macrone's widow totaled 450 pounds, which today would equal about $51,000 U.S. dollars.
The Pickwick Papers is still popular today, though several of Dickens' other novels have surpassed it. The novel is still in print and has been adapted numerous times into films, television productions, animated programs, stage plays, and radio broadcasts. The most recent adaptation is a miniseries produced by BBC in 1985 starring Alan Parnaby, Clive Swift, and Nigel Stock.