Among the many small libraries in the United States attached to organizations, the Poetry Foundation Library in Chicago is a gem. The library itself only opened in 2011, but the collection began as a resource for Poetry magazine in 1912. Open to the public, the library is an extension of the Poetry Foundation's mission "to raise poetry to a more visible and influential position in American culture."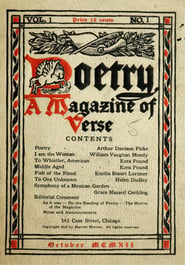 Back in 1912, Harriet Monroe founded Poetry magazine as a monthly publication to print the best poetry being written, regardless of form, style, and genre. The magazine continues over one hundred years later and is the oldest publication of its kind. It brought attention to legendary poets like T.S. Eliot, Ezra Pound, William Carlos Williams, Marianne Moore, and many others at the beginning of their careers. The magazine also helped to bring about the Modernist poetry movement in America. Despite numerous financial struggles, Poetry fought through, paid its contributors, awarded prizes, and provided a stable platform for great poets.
Over its long history, Poetry magazine also amassed a generous working collection of library materials. In 1931, five years before her death, Harriet Monroe decided to donate her personal poetry library, her papers, and the editorial files for the magazine to the University of Chicago, where they remain today. The University of Chicago Library Special Collections has added to these holdings beyond Monroe's bequest. The Modern Poetry Manuscript Collection is especially unique as it contains the original papers of numerous renowned poets.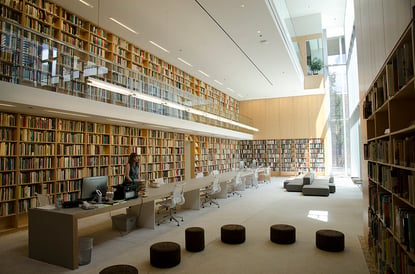 Image used under Creative Commons license from Flickr user: https://www.flickr.com/photos/eblake/14639976975
The Poetry Foundation Library acts as the outward face of the Poetry Foundation rather than its history keeper. Thanks to a major gift from philanthropist Ruth Lilly, the Foundation built a new home to house the offices for Poetry magazine, the library, an exhibition gallery, a public garden, and space to host special programs. The library seeks to collect the best poetry of the modern era as well as selections of major poetic eras of the past. The focus is on the contemporary rather than the past. There are approximately 30,000 volumes in the library's collection, ranging from books, broadsides, anthologies, journals, and criticism. And that's not even counting the audio archives which feature poets reading their own work.
The library's doors are open to all who may wander through. Even though the collection does not circulate, people are welcome to stay and read as long as they like in the lovely, sunlit reading room. Poetry is alive every day at the Poetry Foundation Library - how will it come alive for you today?