Poet Ogden Nash was born in 1902 in New York. However, due to his father's business work, the family moved often, and Nash never considered himself a New Yorker. He once wrote the verse "I could have loved New York had I not loved Balti-more." He completed one year of his Harvard education before quitting to move to New York City where he first worked selling bonds, then as a writer at various jobs, including a stint on the editorial staff of The New Yorker. Nash moved to Baltimore in 1931 where he lived and wrote until his death in 1970 due to complications from Crohn's disease. Here are some interesting facts about one of the foremost writers of humorous verse.
For the Love of the Game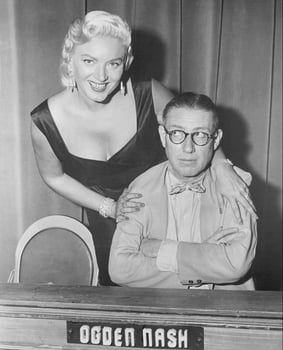 Nash was a huge sports fan, favoring Baltimore teams over all others due to an intense pride in his adopted city. He published a poem in Sport magazine titled "Line-Up for Yesterday" that acts as an alphabetical chronicle of the best players in baseball at the time, offering up his own opinions on the players as well as humorous quips and wordplay. He was an avid fan of the Baltimore Colts (the Indianapolis Colts as of 1983) and his love for the team was featured in a spread in Life magazine for which he contributed an interview and several humorous poems about the players.
Nashville Connection
Ogden Nash was a direct descendant of Abner Nash, whose brother Francis Nash, served as a brigadier general over the North Carolina brigade of the Continental Army in the Civil War. He was wounded in the Battle of Germantown and later succumbed to his injuries and was one of only ten generals to die during the course of the war. He is the namesake of both Nash County and Nashville in North Carolina, as well as of the considerable larger city, Nashville, Tennessee.
Writing in the Family: Fernanda Eberstadt
Critically acclaimed writer, Fernanda Eberstadt, is Nash's granddaughter, the child of his daughter Isabel. Eberstadt worked at Andy Warhol's Factory in her youth and having impressed there, published her first professional piece of writing, an interview with writer Bruce Chatwin in Warhol's "Interview." Her first novel, Low Tide, was published to critical acclaim, as has each of her five novels since. Her first nonfiction book Little Money Street: In Search of Gypsies and Their Music in the South of France Vintage Departures chronicles her time in France having befriended a family of traveling gypsies. Eberstadt also writes essays for publications such as Vogue, The New York Times Magazine, and Vanity Fair.
An Untimely Death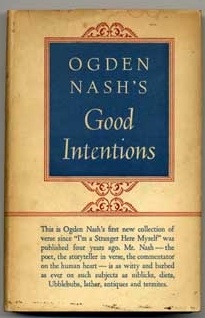 Nash was a longtime sufferer of Crohn's disease, an inflammatory bowel disease affecting the gastrointestinal tract. In 1968 he had the great misfortune of eating coleslaw that had gone bad and contracted a lactobacillus infection from which he could not recover. He died in Johns Hopkins Hospital and is buried in North Hampton, New Hampshire. He was only sixty-eight years old.
Barron Collier: Where Famous Writers Get Their Start?
Before he published his first book of light verse, Nash worked in New York City for Barron Collier as a writer for streetcar ads, a job that utilized his skill for short quips and clever rhymes, but that did not afford the level of creativity he preferred. Interestingly enough, Barron Collier also at one time employed F. Scott Fitzgerald, though the two writers' time there did not overlap. By the time Nash worked for Barron Collier, Fitzgerald had just published his seminal work, The Great Gatsby.