Robert Louis Balfour Stevenson was born on November 13 1850. The Scottish writer published novels, poems, essays, and travel books. He is among the most translated writers in the world, best known for Treasure Island, Kidnapped, and Strange Case of Dr Jekyll and Mr Hyde.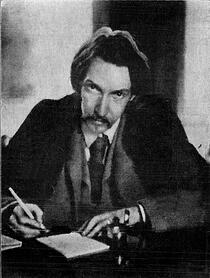 Stevenson was born in Edinburgh, into a family of lighthouse engineers on his father's side and ministers on his mother's. He was a thin, sickly child, which kept him out of school for long periods. His Presbyterian parents were devout but not strict in their religion--unlike his nanny,whose stories caused him many nightmares in his youth. Stevenson was slow to learn to read, and dictated stories to his mother and nurse. Once he began to write, he penned many stories throughout his youth. His father, who had been put off writing by his father, encouraged his habit and paid for the publishing of his first book, The Pentland Rising: A Page of History, 1666 in 1866.
From Engineering to Authorship
In 1867, Stevenson began his engineering studies at the University of Edinburgh, but he was not a dedicated student. Rather, he formed friendships that would benefit him later as a writer. He traveled with his father to see feats of engineering, but the travel left a bigger impression than the structures. He confronted his father about wanting to pursue writing. His family was supportive and advised him to study law instead to make a living.
He rejected many of the family's teachings and became an atheist. He joined the Liberty, Justice, Reverence Club with his cousin Bob. The members encouraged rejection of his family's ideals, and caused a rift between him and his parents.
While traveling in England in 1873, Stevenson met two people who would become very dear to him personally and professionally. Sidney Colvin and Fanny Sitwell, who would later marry each other, helped him publish his first story, "Roads," in The Portfolio. Stevenson looked at Sitwell as both a mother and lover, and soon he was in the literary circles of London. He met another important friend in 1875, William Ernest Henley, who was the model for Treasure Island's Long John Silver, down to his wooden leg. The novel gained attention because Stevenson had borrowed elements of the story from other authors overtly and unapologetically.
Travels and Marriage
Stevenson fell ill again in 1873, and the next year was traveling, frequently to the artist's colony in Forest of Fontainebleau. He passed the Scottish bar in 1875, though he never practiced law. He focused on traveling and writing, although the law often influenced his books as well.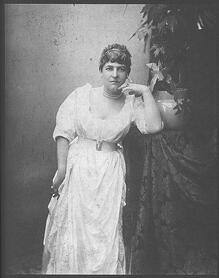 A canoe trip with his friend Sir Walter Simpson brought Stevenson to Grez in September 1876. This would be the basis for his first novel, An Inland Voyage (1878). That voyage was also meaningful to his personal life: it was when he first met Fanny Van de Grift Osbourne, an American divorcée and mother of three (pictured at right, ca 1885). He returned home to write "On Falling in Love" for the Cornhill Magazine, and reconnected with Osbourne the following year.
But then Osbourne relocated to San Francisco, and Stevenson took his own trip that would become his book Travels with a Donkey in the Cévennes. The next year, without telling his parents, he made the voyage to the US. The trip, on a barge and then by train, brought near death, and he had to be nursed back to health. But it made for a good story: The Amateur Emigrant.
After living in poverty and enduring more illness, Stevenson received money from his father and married Osbourne. They traveled to Napa Valley, which he wrote about in The Silverado Squatters. They resettled in England and patched up his rift with his father, but the unforgiving climate of England and Scotland battered his poor health.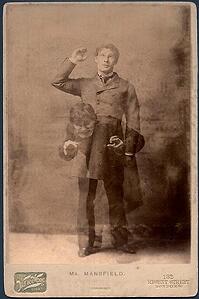 During a summer visit to Bournemouth, Stevenson wrote the Strange Case of Dr Jekyll and Mr Hyde. An instant hit, the novella was inspired by the real-life case of Deacon Brodie. Despite his health, he was a content man and wrote much of his canon in these years. His father died in 1887, and he then felt free to travel to better climates. With his family and mother in tow, Stevenson journeyed to New York state for the winter, then by summer to San Francisco and onto a yacht to the South Pacific. They traveled the islands for three years and his health was fully restored. Stevenson befriended the Hawaiian king's niece, and explored Tahiti, New Zealand, and the Gilbert and Samoan Islands. He also wrote The Master of Ballantrae, "The Bottle Imp," and two ballads from legends of the islanders.
Final Years in Samoa
In 1890, Stevenson settled on the Samoan island of Upolu, and became a part of the native community. He was at odds with the European politicians there, and wrote A Footnote to History chronicling his ire. It caused two colonial leaders to be recalled, but Stevenson remained on friendly terms with some of the colonists. After his death, his letters about the Samoan crisis he witnessed was published in the book In the South Seas.It also detailed his frustration with authority figures and lack of compassion of the clergy for members of the leper colony of Molokai.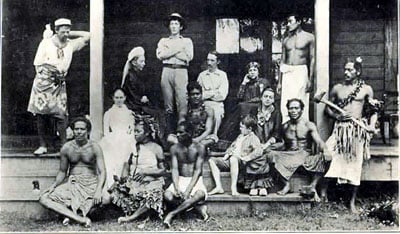 Stevenson with family and friends at his home in Samoa.
He wrote The Beach of Falesa, Catriona, The Ebb-Tide, and the Vailima Letters, and started Weir of Hermiston about the the Lothians at the time of the Napoleonic Wars. But the book would remain unfinished; Stevenson died suddenly of a cerebral hemorrhage in 1894.
An Evolving Literary Legacy
Stevenson was a literary celebrity during his lifetime, but the rise of modern literature in the early twentieth century pushed him out of favor. His reputation as a second-rate writer was sealed when both Virginia Woolf and her husband, Leonard openly condemned his writing. Soon, Stevenson's works were almost completely eliminated from school curricula and the literary canon. He was relegated to the somewhat less appreciated domains of children's literature or horror.
By 1965 sentiment had shifted, however; Roger Lancelyn Green, a member of the Inklings alongside JRR Tolkien and CS Lewis, praised Stevenson's literary prowess and "sheer imaginative power." Stevenson came to be heralded as one of the originators of the Age of Storytellers. His works obviously influenced great authors Henry James and Joseph Conrad. Today, Stevenson's works are translated more often than those of Oscar Wilde or Edgar Allan Poe.
Collecting Robert Louis Stevenson
Like most of his contemporaries, Stevenson often published his works first in serial periodicals. Copies of there are quite rare, as they were printed on extremely cheap wood-pulp paper. But they're lovely additions to a Stevenson collection. Meanwhile the sheer number of adaptations of Strange Case of Dr. Jekyll & Mr Hyde makes the work an exellent focus for a single-title collection; there's a seemingly limitless amount of ephemera associated with the novella and its numerous performances and pop culture manifestations.
Just as collectors of Kurt Vonnegut may venture into collecting the author's graphic arts, collectors of Robert Louis Stevenson may find themselves entering the world of classical music. Stevenson wrote over 120 original musical compositions, including ten accompaniments for pieces of his own poetry.