Nobel Prize winning poet, playwright and novelist Samuel Beckett was born in Dublin, Ireland in 1906. He studied English, French, and Italian at Trinity College before accepting a position at Campbell College where he taught for some years and also developed a friendship with fellow Irish writer James Joyce. It was at this time that be published his first work, an essay discussing Joyce's body of work. But his most famous work is undoubtedly the play, Waiting for Godot. If you haven't seen it, chances are you've seen it referenced in some unique ways.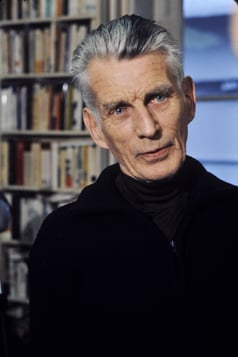 Before writing Waiting for Godot, Beckett returned to Trinity College as a lecturer and continued to publish some academic work. His first published poem was titled "Gnome" and appeared in The Dublin Magazine as a tribute to his time at the university, and it marked the end of his academic career. Though he still published essays and reviews, he shifted much of his focus to writing novels and poems.
The first of his novels was titled Dream of Fair to Middling Women, which was rejected by numerous publishers and not released until some years later. His first full length creative work was a collection of short stories titled More Pricks than Kicks. He published his first book of poetry in 1935. He joined the French Resistance not long after and continued to write throughout the war. He continued to publish poems and stories, as well as novels. Then in 1953, he premiered Waiting for Godot. The play, which was written and first performed in French, exemplifies the best characteristics of Beckett's writing, containing both his avant-garde point of view and the dark humor for which he is known. Waiting for Godot is still being performed today and it's influence can still be see in theater and in pop culture. You might be surprised by the widespread and varied references to the play.
Godot Arrives by Daniel Curzon
In 1999 writer and professor Daniel Curzon won the Southwest Theater Association's National New Play contest. Though unauthorized and unofficial, the play functions as a sequel to Beckett's original while utilizing the same setting, some characters, and same style as the source material. The titular character Godot arrives and answers some of Vladimir and Estragon's questions about the nature of humanity while also serving as a commentary on the nature of theater. Though it has never been a major production and is nowhere near as widespread as Beckett's play, it is occasionally performed by smaller theater companies.
Sesame Street
In perhaps its most surprising appearance in pop culture, Waiting for Godot was parodied in a 1992 segment of Sesame Street, "Monsterpiece Theater" (the name itself a parody of PBS's Masterpiece which was at that time called Masterpiece Theater). In the parody, "Waiting for Elmo," Sesame Street favorites Telly and Grover wait for Elmo beside a dead tree. Eventually the tree gets sick of waiting and leaves to be a prop for a different play, Oklahoma!.
The Late Show with Stephen Colbert
One recent parody of the play was presented on The Late Show with Stephen Colbert in early 2017. Host Stephen Colbert and guest, famed theater and film actor Patrick Stewart performed as Vladimir and Estragon respectively. The two were not waiting for Godot, however. Rather the parody was titled "Waiting for Godot's Obamacare Replacement" in reference to the Republican party's attempts to replace Obamacare with an alternative program.
Doonesbury
Weekly comic strip Doonesbury by Gary Trudeau has also spoofed Waiting for Godot. In 1987 the comic, which often includes the U.S. President as a character and frequently addresses political issues from a liberal point of view as part of the plot, ran a week long spoof of the play. During that week, two characters discussed their hopes for Mario Cuomo to announce his intention to become the primary candidate for the Democratic party nomination for the 1988 election.