Upon his death in 1964, Ian Fleming's obituary noted that he "had completed, and was revising, a new novel, The Man With the Golden Gun." Today, we delve deeper into this posthumous publication. Although not necessarily considered Fleming's best work, it is a necessary piece of the James Bond puzzle, a prized collectible, and it gives us a final taste of one of the greatest spy novelists of all time.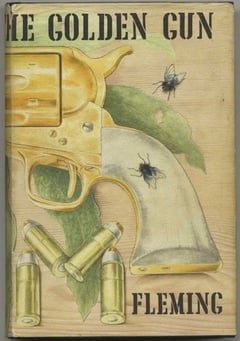 It is no secret that critics became more and more harsh with

Ian Fleming

as his literary career progressed. Where as he could do no wrong with early thrillers like

Casino Royale

(1953), his later works were subject to more severe scrutiny. In fact, in 1962 with the release of

The Spy Who Loved Me

, some went so far as to question whether or not Fleming could conceivably continue the Bond series. He seemed to have strayed so far from its roots, and the results were deemed disastrous. Beyond the

failed experiment in The Spy Who Loved Me

, though, lies further arguments that Fleming just became all together too repetitive and unoriginal in his story lines. All of this, then, makes it seem like Fleming's final novel,

The Man With the Golden Gun

, isn't worth one's time. Here's why it is.


Fleming himself expressed some trepidation about the state of The Man With the Golden Gun as he was writing it. He noted that it would need a lot of reworking, and he even went so far as to tell his editor, William Plomer, that he felt like he should scrap it and begin again. Plomer encouraged him not to, making the case that it was suitable for publication.

Why is this important? We know that Fleming cared about his work. He wasn't writing to a standard that he was satisfied with, and that mattered to him. He was very ill while he was penning The Man With the Golden Gun, and biographers have reported that his daily writing output had dropped significantly by this point in his career as a result. We shouldn't use the pity card in this case. But rather, we must consider that for a man whose life and work was to craft, arguably, the best spy novels ever, it must have been personally devastating to feel like you weren't living up to your illustrious reputation. That Fleming recognized his short comings in this, his last novel, makes it a worthwhile read purely from the standpoint of the study of the author himself.

What's more, critics have maintained that the main issues with The Man With the Golden Gun are the lack of fleshed out details that we've all come to know and love in a Fleming novel. Bond scholar Raymond Benson, author of The James Bond Bedside Companion, reflects that these were the minute and spot-on details that Fleming would often add as he revised his work. The fact that they are lacking in his final novel reveals that he never got around to doing the nitty gritty editing that was customary. Reading The Man With the Golden Gun with this in mind makes for a fascinating experiment. One can almost imagine for him or herself what extra tid-bits Fleming would have chosen to insert had he had the time. Because they aren't there, the novel remains a sort of unfinished tribute to the author.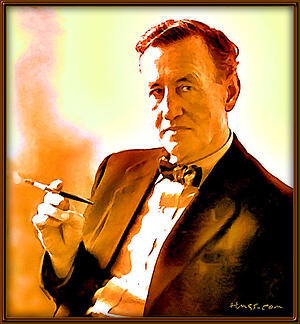 Johnathan Cape, the publishing house responsible for
The Man With the Golden Gun
actually passed along the manuscript to
Kingsley Amis
for his feedback after allegedly feeling the novel was "feeble." Amis made some recommendations, but Cape didn't use the suggestions. Truly, this final work by
Fleming
is a raw reading of the author in his barest and most exposed form. No add-ons, and no real revisions.

Of course this 'raw' novel is published now. In fact, Johnathan Cape published the twelfth and final Bond novel* written by Fleming on April 1, 1965, eight months after its author's death. The reception was not altogether positive. Many were rough on Fleming. Maurice Richardson in The Observer threw around phrases like "tired" and called it a "sub-standard job." Still others like Anthony Lejeune in the National Review praised Fleming for a job well done, calling the final novel "intensely readable" and argued that Fleming had "irrevocably transformed the genre in which he worked."
As a collectible, The Man With the Golden Gun is a prize. In the novel's first print run, an embossed gun was printed on the cover, beneath the dust jacket. Because it didn't hold up well, it was discontinued early. As such, there are very few copies available. Acquiring one in pristine or fine condition is incredibly difficult, and, of course very valuable.

Fittingly, The Man With the Golden Gun still spent quality time on the bestseller list. As readers and collectors, it merits our attention as the last full novel penned by the best of his kind.
*A collection of short stories, Octopussy and The Living Daylights, was also published posthumously in 1966 and is the considered the last installment in Fleming's Bond series. However, the short stories included in it had appeared elsewhere prior to Fleming's death.