A jack of many literary trades, Tennessee Williams is best known as one of the most prominent playwrights in twentieth century America. His play, A Streetcar Named Desire, sits alongside Arthur Miller's Death of a Salesman on the top tier of twentieth century theatrical output. Williams wasn't discovered until his 30s when the success of The Glass Menagerie in New York rocketed him into fame. He followed up this play and became a household name in the late 1940s and early 1950s thanks to his best work, including Streetcar (1947) and Cat on a Hot Tin Roof (1955). Many of Williams plays were adapted, adding to his notoriety.
He struggled with substance abuse and severe depression later in his life, undoubtedly affecting his ability to work. Still, a few years before his death Williams was inducted into the American Theater Hall of Fame. In honor of his birthday, we've rounded up several of our favorite Tennessee Williams posts.
Tennessee Williams—along with Arthur Miller and Eugene O'Neill—was one of the most well-respected American playwrights of the 20th century. His seminal works, like The Glass Menagerie (1944) and A Streetcar Named Desire (1947), helped to redefine the standards not just of drama but of film and television. After all, A Streetcar Named Desire famously helped to launch Marlon Brando's illustrious career.
Though many are aware of the generally tragic trajectory that took the great artist through depression and alcoholism, his personal life hasn't always drawn the same sort of interest as that of other writers. Here are nine interesting facts about him.
1. He was briefly a caretaker on a chicken ranch.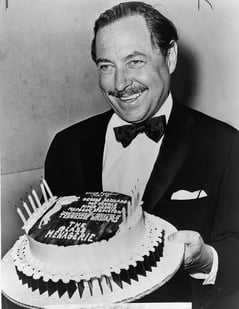 Williams held down a number of odd jobs both in his adolescence and in his twenties and thirties while he was struggling to find success. Though he was, variously, a factory worker, a waiter, and a Hollywood script writer, only his brief turn as a caretaker on a chicken ranch has been described as 'disastrous.'
2. His earliest work was fantasy/science fiction.
Though he's now know for his distinct brand of emotional realism, Williams' first short story was published in Weird Tales, a review that was famous for publishing some of H.P. Lovecraft's early work, and it featured an Egyptian pharaoh coming back to life.
3. He was a Hart Crane fanboy.
So much so, in fact, that, though his wishes would ultimately be ignored, he repeatedly expressed a desire to be buried at sea near the site of the famed poet's death. Read more >>
Thomas Lanier (Tennessee) Williams was a man before his time, drawing attention to social issues rather than politics; focusing on mental health, sexual orientation, domestic violence, and family issues. He is one of the greatest American playwrights and largely undervalued.
The Southern Gothic writer was born on March 26, 1911 in Columbus, Mississippi. He began writing when he was eight years old, after his family moved to St. Louis. He attended the University of Missouri, but dropped out and worked at the International Shoe Company factory. Williams would later graduate from the University of Iowa. His work in the factory was mundane and lifeless, pushing him to write more and subsequently inspiring the character of Tom Wingfield.
In 1939, Williams moved to New Orleans, Louisiana, where he would soak in the rich culture and use the city as the setting for A Streetcar Named Desire (1947). In 1944, he had his first major success as a playwright with the production of The Glass Menagerie, not too long after, making its Broadway debut. Williams did not publish his favorite and one of his most popular plays until 1955.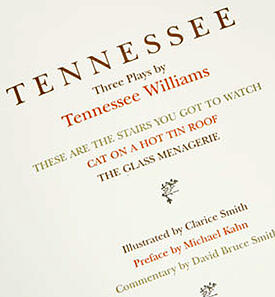 Cat on a Hot Tin Roof tells the story of a southern family caught up in lies. The play highlights the marital issues between the two main characters, Brick and Maggie. The couple has had ongoing problems, as Maggie slept with Brick's best friend to destroy any form of intimacy and trust between the two men. Although Maggie performs this act with Skipper to try to prevent anything from happening, it is through her that Skipper realizes his true feelings lie with Brick. However, when Skipper confesses his true feelings to him, he is denied and left heartbroken—inevitably leading to his suicide and leaving Brick with an insurmountable guilt he would try to drown in alcohol.
When this play was initially released, homosexuality was not accepted whatsoever. Gay relationships had no serious place in Hollywood, and bedside scenes usually provided comic relief. This censorship diluted the extent of Brick and Skipper's relationship when it was performed and filmed. Read more >>
The Glass Menagerie narrowly avoided complete disaster when it premiered in Chicago in 1944 with the inebriated Laurette Taylor in the crucial role of overbearing matriarch, Amanda Wingfield. Taylor was found drunk in the alley behind the theater an hour and a half before the opening curtain. Somehow, despite needing to vomit in a bucket backstage between scenes, she managed to pull off a performance still considered legendary. It was this performance on which hung the destiny of one of America's greatest playwrights: Tennessee Williams.
The play was a great success, giving Williams his first big break and winning the 1945 New York Drama Critics Award. It was followed in 1947 by the even more successful A Streetcar Named Desire, which opened on Broadway in the Ethel Barrymore Theatre and starred Marlon Brando and Jessica Tandy. Directed by Elia Kazan, Streetcar went on to win the 1948 Pulitzer Prize for Drama. Cat on a Hot Tin Roof, which premiered in 1955, completed the trifecta of what Tennessee Williams would come to call, "The Catastrophe of Success" in a 1947 essay that appeared in the New York Times.
If Williams's success was self-described as the result of a catastrophe, his life up until The Glass Menagerie must also have played a role. Born on March 26, 1911 in Columbus, Mississippi as Thomas Lanier Williams, he was the middle child of Cornelius and Edwina Williams. His sister, Rose, was two years his senior; his brother, Dakin, was eight years his junior. Cornelius was abusive and an alcoholic who showed contempt for his effeminate middle child, going so far as to nickname him Miss Nancy. Edwina, who fancied herself a southern belle, was a high-handed, snobbish woman with a fear of sex. She passed on that fear to her children, a theme that would play out again and again in her famous son's plays. Williams wrestled with his own sexuality into his late twenties when he finally accepted his homosexuality. Read more >>