If there's one problem with our literary landscape, it's perhaps there are too many great writers and thinkers for the average reader to keep track. Whether you're looking into a specific literary tradition, region, or movement, it's easy to gloss over a handful of important writers or those literary artists who have in subtle ways influenced future generations of scribes. Because history is instructive and it's impossible to understand where you're going without realizing where you've been, this oversight can be a serious misstep for the literary enthusiast.
Perhaps one of the greatest oversights—especially considering the width and depth of the career and creative interests—is English writer, poet, designer, and socialist activist William Morris.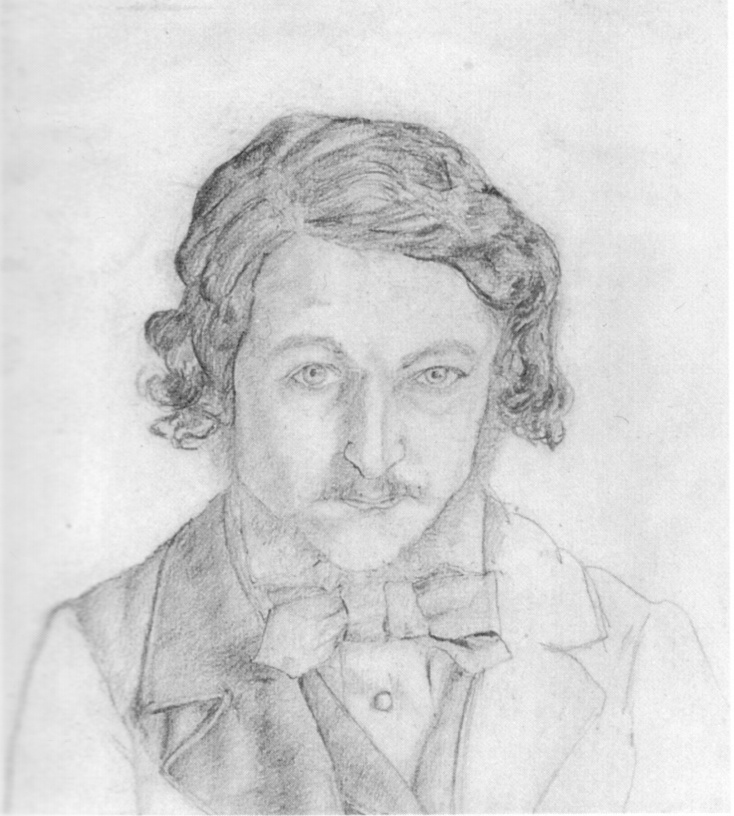 Morris' literary contributions helped define and further what is considered the modern fantasy genre, and his textile and design interests helped create a nationwide movement toward a more artisanal arts and crafts culture. But Morris' life and literary career also intersected with a number of other important places and people during the mid to late 1800s, even if a majority of readers don't realize these connections and how valuable they were in pushing a literary or artistic agenda.
To help shed some light on William Morris and his importance (as underappreciated as it may be), let's examine a handful of interesting William Morris FAQs to enlighten readers on Morris' influence and footprint on more contemporary literary and fine arts.
Question: Where did Morris do his best work?
Answer: Morris wrote many of his most famous works at the famed Kelmscott Manor in Cotswolds village in West Oxfordshire.
Kelmscott Manor was the country home, retreat, and artist studio for Morris from 1871 through his death 1896. Morris was drawn to the historic elements of the home—Kelmscott was originally built in 1570—but also the tranquil elements of the surrounding region, particularly the proximity to the River Thames. As something of a muse for Morris, Kelmscott appears in various forms and states in a number of Morris most classic or renowned works such as News From Nowhere, Morris' utopian, futuristic novel of a world essentially built on socialist ideals. To this day, Kelmscott houses a number of Morris' most iconic textiles, most of which were created during Morris's tenure at Kelmscott.
Question: Did Morris champion any particular literary movements?
Answer: Morris was a key player in establishing and popularizing the British Arts and Crafts movement.
The British Arts and Crafts movement took hold in the late 19th Century and eventually became popular in North America and Japan at the turn of the century. Built on the ideals of craftsmanship and artisanally-focused creations based on the idea of simplicity and understatement, Arts and Crafts advocated for economic and social reform and a turn away from the industrialization of what was considered modern society. Morris helped champion this movement through his personal ideas and writings about the proliferation of a socialist society, but also through the anti-industrial nature of his novels, essays, and textiles, all of which were structured on a more rural existence without the complications of a modern world.
Question: Did Morris start off as a writer? Did he have other jobs?
Answer: After graduating from Oxford University's Exeter College, Morris worked as an architect in London while pursuing his literary aspirations on the side.
Morris quickly became disenchanted with his education at Exeter shortly after arriving in 1852. The traditional curriculum and emphasis on classical studies bored Morris, who then became infatuated with Medieval literature and architecture, especially the Medieval style of design that was quite prevalent in Oxford. While Morris was always interested in poetics, literature, and social activism through the literary arts, Morris worked for a handful of architecture firms in London and the surrounding areas upon graduation in the late 1850s. Morris' distaste for London, modernity, and the style of architecture in the modern, industrial city further fueled his movement toward the Arts and Crafts movement.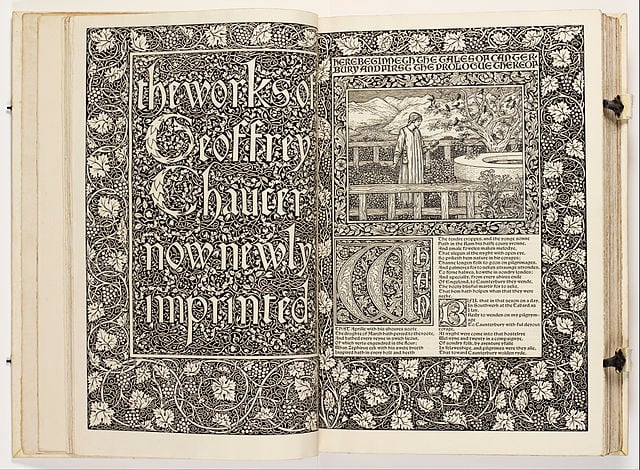 Question:What was the state of Morris' health?
Answer: Morris suffered from erratic behavior and mood swings, and some biographers have suggested he could have been diagnosed as Tourette's syndrome.
Prone to a nervous disposition and random outbursts of anger and frustration, Morris often suffered seizures and blackouts as a result of said outbursts. Throughout most of his life, Morris relied on a network of friends to help manage these swings in temper and mood, which were often channeled into his work. Morris' inclination toward a simpler life via Kelmscott is also suggested by scholars as a result of his inability to modulate his temper and behavior.
Question:What is Morris' legacy?
Answer: Morris' final novel, The Sundering Flood, is widely considered the forefather of the modern fantasy genre. He also founded the Kelmscott Press.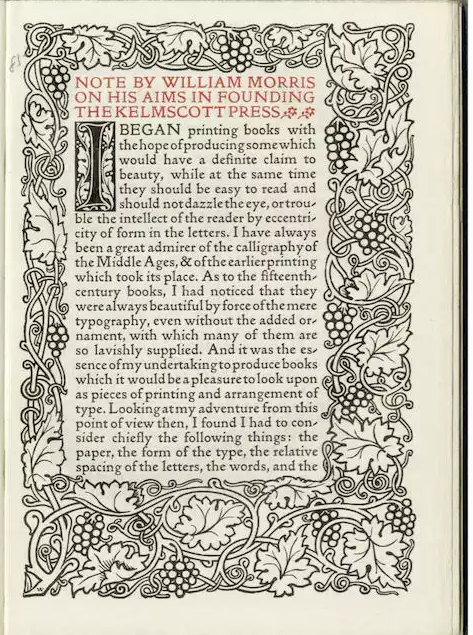 Morris was in the middle of revising and editing The Sundering Flood at the time of his death in 1891. The novel's integration of a created, imaginary world with elements of the supernatural forged a path for the modern fantasy novel and is a recipe subsequent fantasy writers followed. The novel was completed in first-draft form at the time of Morris' death and the final chapter was actually dictated as Morris was on his deathbed. The novel's use of Medieval imagery, archaic language, and intertwined storylines makes the novel a difficult read for novice Morris readers. Morris' daughter worked a revision and edits on the novel following her father's death and helped shepherd the novel into publication in late 1897.
In Morris' final years, he founded the Kelmscott Press. The Press published limited editions, and Morris' efforts brought about a renewed appreciation for quality over quantity in the world of printing, a sentiment that rings true for many fine press establishments to this day.