It's hard to believe another year has come and gone. We hope your holiday season has been a wonderful one and that you're looking ahead to 2020 with joy and excitement. We like to take time at the end of each year to take stock of our work over the past 12 months. We've compiled our top posts from 2019. Thank you for reading and commenting! This community of book enthusiasts is why we do what we do. Here's to a bookish 2020!
And now, in no particular order, our top 10 posts written in 2019.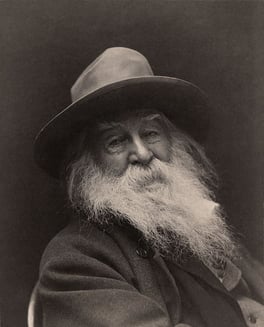 First published in 1855, Walt Whitman's Leaves of Grass was a continuous labor. Whitman spent much of his professional career creating and changing his work, resulting in vastly altered editions being printed. Included in Leaves of Grass, "Song of Myself" is written in Whitman's usual free verse and simple language, appealing to a vast audience. Like the work as a whole, "Song of Myself" underwent many revisions throughout the years before becoming the poem now considered one of the most influential pieces of American poetry. Read more >>
For years now, film and television producers have been battling each other to create the one piece of fantasy media that will dominate all others. There was New Line's Lord of the Rings (2001-2003) adaptions, HBO's Game of Thrones (2011-2019) series, New Line's subsequent Hobbit (2012-2014) trilogy, and now, as of a blockbuster 2017 deal, Amazon Studios will be producing at least five seasons worth of television based on Tolkien's iconic mythos and characters—a show that they, like those that have gone before them, hope will be the one series to rule them all. In this regard, it sometimes feels like these studios missed the point of Tolkien's story entirely. Read more >>
Edgar Allan Poe is a household name. His influence on poetry and the genres of detective fiction (he is considered its creator), science fiction (which his work helped forge a path for), and Gothic literature in general cannot be overstated. His works are well-known in popular culture, as most all of us were required to read at least some of them throughout our schooling. It follows, then, that Poe remains quite quotable. In honor of his birthday, we've compiled ten of the best quotes from Edgar Allan Poe. Have you read these works? Share with us your favorite Poe title or quotation in the comments below. Read more >>
Truman Capote is a legendary American author who penned such classics as In Cold Blood and Other Voices, Other Rooms. But Breakfast at Tiffany's is undoubtedly Capote's most beloved work. Adapted into both a movie and a musical, the story has enraptured generation after generation. The novella remains a favorite among rare book collectors. Here are a few tidbits you probably didn't know about this iconic story. Read more >>
Mickey Spillane, one of the most popular American mystery writers of the twentieth century, is known for his gritty, gruff writing. His work is violent, dark, and utterly successful; his first novel sold over one million copies. Known for the character Mike Hammer, Spillane's work on his mystery novels did not limit his work as a writer. He wrote television shows, movies, and children's books, winning the Junior Literary Guild award for his 1979 story, The Day the Sea Rolled Back. However, his writing is best remembered for his use of vivid descriptions, short words, and fast transitions to help immerse readers in the story.
To get a feel for Mickey Spillane's writing, here are eight quotes that depict his signature style: Read more >>
Janet Evanovich was born in South River, New Jersey in 1943. Evanovich has become a household name thanks to her much beloved adventure series featuring bounty hunter Stephanie Plum. A prolific writer, she has published over sixty novels, many of which have topped the New York Times Best Sellers list. Her novels are published all over the world and have been translated into over 40 languages. In celebration of this writer's amazing career, here are five things you might not know about one of America's most loved adventure novelists. Read more >>
Published on August 17, 2019, Animal Farm was George Orwell's first bestseller and helped cement his place among timeless authors. Born June 25, 1903, as Eric Arthur Blair, Orwell spent much of his career after his experiences during the Spanish Civil War speaking against totalitarian governments. His works, from Animal Farm to Nineteen Eighty-Four, are still influential and widely studied nearly 70 years after his death. Read more >>
First published in 1925, The Great Gatsby is F. Scott Fitzgerald's third book and is widely considered the paragon of his career. Its exploration of the lavish wealthy lifestyle of the 1920s causes it to be hailed as the archetypal Jazz Age novel. The reasons behind Gatsby's place among the greatest twentieth-century classics can be seen in Fitzgerald's masterful word crafting.
Today, we've collected ten inspiring Great Gatsby quotes for you to enjoy. Be sure to scroll to the bottom of the post to read more about F. Scott Fitzgerald. Read more >>
Virginia Woolf is undoubtedly one of the most important literary figures in both English literature and feminist literature. Her novels, essays, criticism, and work toward education reform have made her a frequent subject of study, even today, nearly sixty years after her death. Her work makes her a pillar of both feminism and modernism. Today, on the 132nd anniversary of her birth, lets take a closer look at her life and the ways in which she has remained firmly relevant. Read more >>
Born in 1817, Henry David Thoreau spent most of his life in Concord, Massachusetts. He was sent to Harvard, where he did very well and in 1837, graduated in the top half of his class. Despite his high placement and due to the economic depression, lack of job opportunities, and Thoreau's disinterest in available careers, he began teaching at the Concord public school. He left after two weeks due to a disagreement over how to discipline students. From there, he started working at his family's pencil factory. In 1838, Thoreau and his brother John opened and operated a school until it closed in 1841. A second stint in the pencil factory ended when Thoreau was invited to work for and live with his mentor and friend Ralph Waldo Emerson, which led to aspirations of writing. Read more >>