Alan Alexander Milne is best known for creating the characters of Winnie the Pooh, Christopher Robin, and company. Yet A.A. Milne wrote much more than children's stories; he penned detective novels, screenplays, and poetry. His complex relationship with P.G. Wodehouse had a significant impact on both authors, but frequently gets overlooked.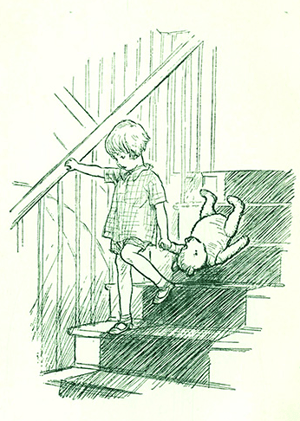 Milne and Wodehouse were about the same age, and both were building careers as comedy writers. In the early 1920s, the two became friends, even working together to back Ian Hay's dramatization of Wodehouse's novel, A Damsel in Distress. Both writers were enjoying literary success, though Wodehouse more so. He sometimes thought he detected hints of jealousy from Milne.
Then the world was on the precipice of war. Milne took a more patriotic stance than Wodehouse, who was mostly uninterested in politics. But that didn't stop Wodehouse from turning his satirical eye on political personages. Wodehouse famously offered a sketch of British Fascist leader Sir Oswald Mosley, whom he satirized with the comical character "Roderick Spode" in The Code of the Woosters. In the end, Bertie Wooster defeats Spode by threatening to reveal that Spode secretly designs women's silk underwear. The work hardly paints Wodehouse as a Fascist sympathizer.
Two years later, in 1940, the Germans invaded France. Wodehouse was living there with his wife and did not escape arrest. The couple were interned. Two of Wodehouse's German friends from Hollywood were in the country at the time, working on Nazi propaganda. They made Wodehouse an offer: broadcast about the internment in exchange for release. Wodehouse agreed, which would prove an incredibly destructive choice.
In total, Wodehouse did five talks, which were broadcast over Berlin Radio in 1941. His German interlocutors requested that he go to the site of the Katyn massacre, and that he explain why Stalin had murdered the Polish Army's officer corps. Wodehouse refused. He did, however, poke fun at the Germans in his usual style. That flippancy was anything but well received in Britain; citizens were living in fear of German invasion, and they failed to see the humor of Wodehouse's broadcasts.
Indeed, the public was outraged. Multiple famous authors excoriated Wodehouse, including former friends like Ian Hay and E.C. Bentley. But A.A. Milne was perhaps the harshest: "Irresponsibility in what the papers call a 'licensed humorist' can be carried too far; naivete can be carried too far. Wodehouse has been given a good deal of licence in the past, but I fancy that now his licence will be withdrawn."
By this point, Wodehouse had been cast as a traitor in the eyes of the public. Sales of his books plummeted, and his works were not available in libraries. His stories were no longer broadcast on the radio. Only George Orwell stepped up to defend Wodehouse, reminding people that many pro-Munich Tories had been much more helpful to Hitler. Meanwhile, Wodehouse was officially investigated by Liberation Major Malcolm Muggeridge. He found Wodehouse not guilty of treason; Wodehouse's broadcasts had not been pro-Germany, nor had they assisted the enemy in any way.
Even as he was investigated for treason, Wodehouse was preoccupied with Milne's harsh criticism. He asked Muggeridge about Milne right away, and later admitted that "Nobody could be more anxious than myself...that Alan Alexander Milne should trip over a loose bootlace and break his bloody neck."
Wodehouse would exact his revenge on Milne. Published in 1949, Wodehouse's "Rodney has a Relapse" follows Rodney, a writer of detective stories (much like Milne). Rodney begins writing poems about his young son Timothy. At one point, the narrator asks, "Do you know where Rodney is at this moment? Up in the nursery, bending over his son Timothy's cot, gathering material for a poem about the unfortunate little rat while asleep....Horrible, whimsical stuff, that....Well, when I tell you that he refers to him throughout as 'Timothy Bobbin,' you will appreciate what we are up against. I am not a weak man, but I confess that I shuddered."
This was a particularly personal dig against Milne, who admittedly spent little time with his son Christopher (upon whom the character of Christopher Robin was based). Milne got information from his wife. As a result, Christopher resented his literary alter ego. Ironically enough, Milne had read Christopher Wodehouse's stories, a tradition which Christopher continued by reading Wodehouse to his own child.
Clearly there was bad blood between the two authors, but Wodehouse seemed to mellow over time. In 1958, when he learned that Milne was seriously ill, he lamented the fact and noted that Milne was "about my favorite author." Yet the two authors would never reconcile. Milne passed away in January 1956.
Sources and further reading: The Paris Review, Biography.com, FSU Digital Libraries