Herman Melville's first novel Typee, was a critical and popular success. Indeed, it launched him headfirst into a massive literary career. However, his subsequent books did not receive as many positive reviews, and in his lifetime, he slipped into relative obscurity as something of a one hit wonder despite continuing to publish both novels and short stories. He died in 1891. It wasn't until what would have been his hundredth birthday that the "Melville Revival" began. His books were reprinted, scholars began studying and writing about him, and his unfinished works were released. Since this revival, Melville has taken his place as one of the American literature greats. His novel Moby Dick, while considered a disaster at the time of publishing, is an area of study all its own and is considered one of the best American novels ever written. Melville collectors may be interested in learning about the following editions of the seminal work and potentially adding one to their shelves.
First American Edition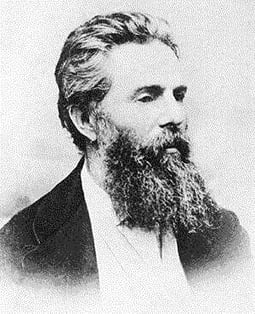 Moby Dick was published in 1851 by Harper & Brothers in New York. The first edition, octavo sized with publishers brown cloth with orange end papers, can sell for upwards of $60,000. Custom clam shell covers are often included with first edition copies due to the rarity and age of the novel.
The Arion Press Edition
Noted fine press publishers, Arion Press, released their own edition of Moby Dick in 1979. Only 265 copies were published with 250 for sale, and the blue morocco cover with stamped silver lettering makes this edition both rare and attractive. Boxwood engravings by artist Barry Moser offer insight into the whaling industry and bring another level of desirability for collectors as this marks the time Moser collaborated with Arion Press. This edition is printed on handmade greenish paper and features a whale watermark. Copies of the Arion edition sell for around $25,000.
First French Edition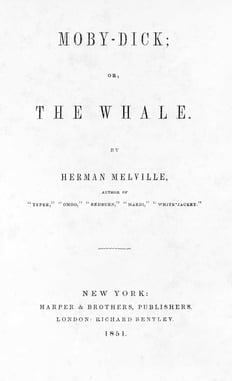 Half brown morocco with gilt edges, this edition features woodcuts by Alexandre Noll as well as two plates. Though there is some debate on the size of the first French print run, it is generally given the range of only 30 to 300 copies made. The book was only just translated into French in the 1930s, and print efforts were stymied by the War. Further copies were printed in 1941 in France but the original edition generally sells for around $12,000.
Rockwell Kent Edition
Published by The Lakeside Press in a limited edition print run, Rockwell Kent's 1930 edition stands out because the novel is split into three volumes. Each edition includes 300 drawings from Rockwell Kent, and show Kent's entirely free reign when it came to the creative direction of the set. Kent's illustrations adorn patterned paper throughout. The books have black beveled edged covers with silver stamping and spine lettering. Considered a masterpiece of illustration, the complete three volume set will sell for up to $9,000.