During her lifetime, critics dismissed Daphne du Maurier as a lightweight romance novelist—a categorization that infuriated the bestselling author. The Christian Science Monitor said that her masterpiece, Rebecca, "would be here today, gone tomorrow." Time has been kind to du Maurier, however; Rebecca enjoys continued popularity—voted the fifteenth "best loved novel" in a 2003 BBC survey—and du Maurier is now acknowledged as a master suspense writer.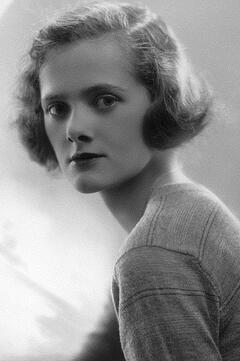 Born in London on May 13, 1907, du Maurier was the daughter of renowned actor Gerald du Maurier. Her grandfather, George du Maurier, was a prominent author and illustrator; her cousins, the Llewelyn Davies boys, inspired J. M. Barrie's play Peter Pan. Raised among artists, du Maurier showed literary talent from a young age. Her family's many connections helped her to launch a writing career and she published her first novel, The Loving Spirit, when she was just twenty-four years old.
Du Maurier earned fame with her first book and also attracted her future husband—Major Frederick "Boy" Browning. Browning read The Loving Spirit and enjoyed it so much that he sought out du Maurier. After a brief courtship, they married. Browning became a famous World War II commander famed as the "father of the British airborne forces."
Du Maurier began work on her most successful novel, Rebecca, in 1937. After receiving an advance from her publisher, she struggled to complete the book. In a letter, she described her difficulties, "The first 15,000 words I tore up in disgust and this literary miscarriage has cast me down rather." Finally in December—the same month the book was due—she began writing in earnest. She spent Christmas away from her family and after only four months completed the novel.
A book about jealousy, the inspiration for Rebecca came from du Maurier's own marriage. She often suspected her husband of harboring feelings for his first fiancée, Jan Ricardo. According to du Maurier's son, "I know that she came across one or two letters or cards, fairly sort of harmless things, where Jan did sign 'Jan Ricardo' with this wonderful great 'R'." In Rebecca, du Maurier wrote, "The name Rebecca stood out black and strong, the tall sloping R dwarfing the other letters." Alfred Hitchcock adapted the book into an Academy Award-winning film, the first of three collaborations between Hitchcock and du Maurier.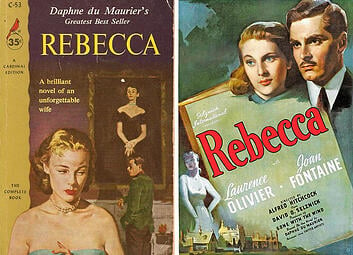 When the book was published in Brazil, controversy arose over its similarities to A Sucessora (The Successor), a 1934 book by writer Carolina Nabuco. Nabuco and her editor alleged du Maurier had stolen the plot and much of the dialogue from A Sucessora. Du Maurier scoffed at the claims, arguing that the plot itself was too common to have been plagiarized. Although sued for plagiarism in 1947, du Maurier won the lawsuit.
After du Maurier's death in 1989, her authorized biographer, Margaret Forster, suggested that du Maurier was a closet bisexual. She argued that the writer had been infatuated with Ellen Doubleday, the wife of her American publisher, and had had an affair with Gertrude Lawrence, an actress who had been romantically involved with du Maurier's father. Forster cited du Maurier's letters in which she described her own sexuality as containing a "male energy" that she had kept hidden. She also quoted du Maurier as saying, "To be blatantly vulgar, anyone with a spice of imagination would prefer a divan with Gertrude to a double-bed with her." The family and friends of du Maurier and Lawrence emphatically denied Forster's assertions although speculation about du Maurier has continued.