Gone with the Wind by Margaret Mitchell has staying power. Today, the book turns 82 years young, and it continues to be heralded as a favorite by readers of all ages. Gone with the Wind has become a sort of benchmark for Southern Literature since its publication in 1936, and while some contest its portrayal of African American and period-based racism, it remains widely studied and referenced both by scholars and readers alike. The book won the Pulitzer Prize in 1937, and a now well-known and well-loved film by the same name was released in 1939. We've collected everything we could pertaining to Gone with the Wind to help celebrate its publication. Read on for facts about the film, Mitchell herself, and more!
The Woman Behind Gone with the Wind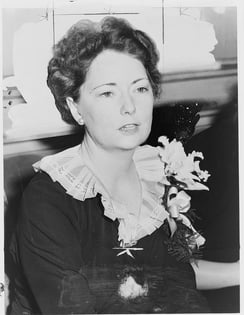 Though Margaret Mitchell had only one book published in her lifetime, it remains one of the most popular books of all time. Gone With the Wind won the National Book Award as well as the Pulitzer Prize for fiction in 1937. The story of Scarlett O'Hara's life in the aftermath of the Civil War, the changing nature of Atlanta, and her tumultuous relationship with Rhett Butler has intrigued generations of readers and movie fans. It's film adaptation, too, has endured as a classic and was a major influence on films for years after its release. Starring Vivien Leigh and Clark Gable, the film won the Academy Award for Best Film in 1939, as well as twelve other awards, and is still considered a triumph today. Likewise, the book is still widely read and has never been out of print. So, what inspired Mitchell to pen a tale with such staying power?
The Atlanta in which Mitchell was raised was not the same as the Reconstruction era city she wrote about in her novel, but the remnants of that world were still very present and served as an inspiration to Mitchell when crafting her epic. Read more >>
10 Facts You Should Know About Margaret Mitchell
1. When Mitchell was three years old, her skirt caught fire on an iron grate. Paranoid that it would happen again, Mitchell's mother began dressing her in pants, earning young Mitchell the nickname "Jimmy" after the comic strip character "Little Jimmy." Mitchell would say she was a boy named Jimmy till she was fourteen years old.
2. Mitchell began writing at a very early age. She even bound her own books and added covers. At age eleven, she started her own "publishing company" called Urchin Publishing Co. Mitchell would later write her stories in bound notebooks.
3. During her adolescence, Mitchell wrote a novel called The Big Four about girls in boarding school. The manuscript is thought to be lost; Mitchell destroyed some manuscripts herself, and others were destroyed after she passed away.
4. An apathetic student, Mitchell had vague aspirations of entering psychiatry. But when her mother died during the 1918 flu pandemic, Mitchell left Smith College and went home to run the household for her father and brother.
5. Mitchell called herself an "unscrupulous flirt" and was well known for her coquettishness in Atlanta social circles. Advice columnist Polly Peachtree wrote of Mitchell in 1922, "She has in her brief life, perhaps had more men really truly 'dead in love' with her, more honest-to-goodness suitors than almost any other girl in Atlanta." Read more >>
What's In a Name? Alternate Names for Three Famous Literary Characters
The world may know the heroine of Margaret Mitchell's 1936 classic Gone with the Wind as Scarlett O'Hara; however, Mitchell's original name for her leading lady was in fact Pansy. Read more >>