Louisa May Alcott was born in New England in 1832 to transcendentalist parents. Her early education was comprised of lessons from a host of impressive family friends including Nathaniel Hawthorne, Ralph Waldo Emerson, and Henry David Thoreau. A love of education and writing was instilled in her at an early age but due to financial struggles, Alcott was forced to pursue a variety of jobs. It was while working to help support her family that she first turned to writing as an escape. She began writing for the Atlantic Monthly, and letters she wrote while working as a nurse during the Civil War were collected and published as Hospital Sketches. She wrote several novels under a pseudonym before penning her most well-known novel, the enduring classic Little Women. But in spite of the success of the novel which brought her acclaim and financial security, the story of the March sisters was not as close to Alcott's heart as one might think.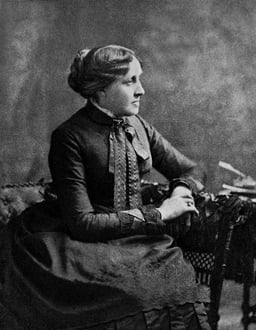 By 1868 Alcott had already published a collection of short stories, Flower Fables (1849), a novel, The Mysterious Key and What it Opened (1867), and two novels under the name A.M. Barnard. She wanted to pursue publishing her short stories or more adventure novels under her pseudonym but her editor, seeing an opening in the market, urged her to write a novel that could be enjoyed by women and girls of any age.
At first, Alcott declined, but after some pressure from her father, she consented to write the novel. It took her three months to complete Little Women. She wrote dutifully but found the work to be little more than drudgery and the story itself to be boring, though it was based on her own home and her relationship with her three sisters. Alcott wrote it purely for the money. But when the first half of the book was published, it was an immediate hit—a pleasant surprise for both her and the publisher. The first printing sold out quickly and demands for the book made it hard to acquire in spite of frequent reprintings. Such was the success of the novel that Alcott was pressed to write a sequel, which the publisher released not even three full months after the original came out. These two novels were eventually collected and released in 1880 as one volume titled Little Women.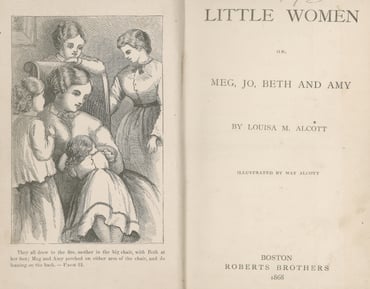 While she continued to publish short stories and adventure novels, none of them reached the same level of success as Little Women. Alcott returned to the Marches in 1871 with Little Men, about the school run by Jo and Professor Friedrich Bhaer, and in Little Men, she offers a glimpse into the lives of the 'little women' as mothers. In 1886 Alcott returned one last time to the March family and their spouses with Jo's Boys, a novel focused on some of the favorite students from Little Men.
The success of Little Women—and subsequently Little Men and Jo's Boys—allowed Alcott to continue making a living with writing for the rest of her life. Alcott died in 1888, but each book of the Little Women trilogy is still in print today, and numerous film and television mini-series adaptations have been made from each. We can only hope that Alcott came to love the story of the March sisters as much as her generations of readers.