The international library system would be sorely lacking without universities. Where government and private interests (and resources) fail, academic ones pick up the slack, snapping up the archives of major authors and collecting volumes on specialized and specific topics. They prove vital assets to researchers and professors. They provide working space for students and writers (I happened upon Zadie Smith, headphones in her ears, in New York University's Bobst Library one afternoon). They are essential to the health of literature and education. And they are often very beautiful.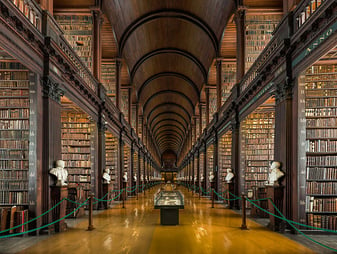 There are a few ways to measure the significance of a library. One way is to consider what sort of students, professors, librarians, and writers it has supported. Another way is to judge by appearance and atmosphere, how it is conducive to immersive intellectual work. But perhaps most important is its contents, what rare and exciting books and materials it preserves and shares with the world. Below, we've collected some of the best college libraries in the English-speaking world.
Trinity College Library
The crown jewel of Ireland's premiere college library is the Book of Kells, that apotheosis of the illuminated manuscript, which draws over 520,000 visitors a year, making Trinity one of the most tourist-friendly libraries in the world. It's not hard to see why: in addition to its contents, Trinity Library's Long Room (pictured above) is one of the most beautiful, Pinterest-able libraries in the entire world.
The Bodleian Library
A centuries-old British institution, Oxford's main research library holds 12 million volumes, making it the second-largest library in the U.K., behind only the British Library. Few university libraries rival its inventory of literary treasures. Highlights include a complete Gutenberg Bible, a Shakespeare First Folio, the letters of Percy Shelley, the Vernon Manuscript (the longest extant book written in Middle English), and the Bay Psalm Book (the first book printed in North America). The Bodleian takes its books so seriously, its entrants are made to take an oath outlining proper conduct and courtesy.
The Beinecke Library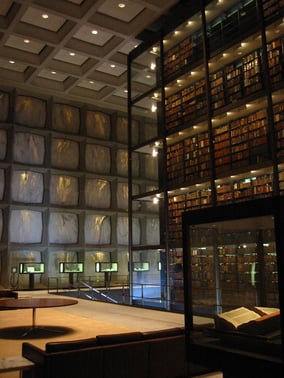 Yale's rare book and manuscript library is one of the finest in the United States. An elegant monolith, in place of windows the Beinecke building has sheets of marble, which become pinkishly translucent when the sun is shining. Inside, visitors can find displayed one of the 48 extant copies of the Gutenberg Bible. Among other gems, the library houses the papers of Gertrude Stein, Ezra Pound, first editions of
Paradise Lost
, a large pop-up book collection, 3,100 volumes of incunabula, and the Voynich manuscript, a famous book written in a mysterious language yet to be decoded. The safety of books is taken so seriously that the Beinecke library employs rigorous surveillance methods, has an inert-gas system to deploy in case of fire, and has pioneered a freezing method to rid books of infestations by the death watch beetle.
The Houghton Library
It should be no surprise Harvard has a world class rare books and manuscript library, but talking about the Houghton Library's holdings in detail renders it only more impressive. The library has a special collection of manuscripts and papers pertaining to Massachusetts' greatest writers, including Emerson and Dickinson. The library also contains stellar collections of papyri and medieval manuscripts, and some of the most comprehensive archives on major figures like Theodore Roosevelt and Samuel Johnson. To top it off, one of Houghton's most curious collections consists of an archive dedicated solely to bookplates: over 20,000 to be exact.
Image source here.