In 1895, Alfred Nobel—Swedish chemist, philanthropist, and inventor of dynamite—died. In his will, Nobel dedicated the bulk of his massive estate toward awarding five yearly prizes. This, then, is how the Nobel Prizes in Chemistry, Physical Science, Medicine, Peace, and Literature were born.
The Nobel Prize in Literature is awarded annually to a writer whose body of work represents a standard of excellence and that moves literature as a whole into an "ideal" direction. Though every year the committee's interpretation of the word "ideal" has held different meanings, in most recent times it has seemed to mean work that focuses on humanitarianism. The Nobel Prize in Literature is the most prestigious literary award in the world, with the committee considering writers from any nation producing work in any language. The winner is chosen each year in October. Last year's winner, singer and songwriter Bob Dylan, was the first musician ever awarded literature's most famous prize. The announcement caused an uproar in the literary community and prompted discussion on the true meaning of the world "literature" and on the place of songs within the overall cannon. With the one year anniversary of that controversial choice and this year's winner, Kazuo Ishiguro, recently announced, it's a perfect time to look back on other notable Nobel Prize in Literature firsts.
Sully Prudhomme: First Winner Chosen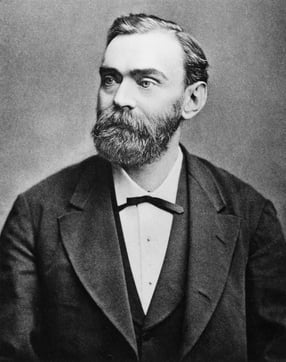 French poet Sully Prudhomme was the first Nobel laureate chosen in the field of literature. He was given his award in 1901. Prudhomme published his first book of poetry, Stances et Poèmes, before the French-Prussian War broke out. The book was published to great critical success and contains some of his most famous poems. His style changed after the war, however, shifting away from his previous sentimental style to one more focused on philosophy and intellectualism. He was awarded the prize due to his ability to write both with great intelligence and emotion. He published over fourteen books of poetry in his life as well as several books of prose and articles.
Selma Lagerlöf: First
Female Winner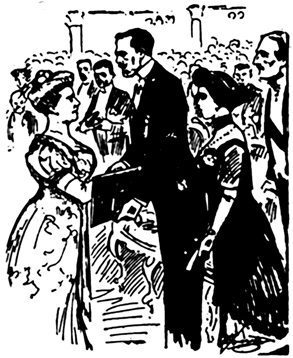 In 1909, Selma Lagerlöf became the first woman to win the Nobel Prize in Literature due to the imagination and spiritual nature of her work. Her most famous work, a children's story titled The Wonderful Adventures of Nils, focuses on a young boy who is cursed and shrunk down to the size of a thumb and who travels on the back of a goose to find his way home again and break the curse. The story has been translated into over thirty languages.
Many of Lagerlof's works have been adapted into films, particularly in the silent film era. Lagerlof devoted her life to teaching and helping children. The love for humanity exemplified in her work was also evident in the way she lived her life, particularly on one occasion at the start of World War II when she sent her Nobel Prize gold medal to Finland to raise money to help fight against Soviet troops. She was awarded two honorary doctorates from Swedish universities and was the first woman to ever appear on a Swedish postage stamp. She was a lifelong supporter of women's suffrage and once helped arrange permanent sanctuary in Sweden for her friend, Jewish writer Nelly Sachs, and her mother when they fled Nazi Germany.
Boris Pasternak: First Refusal of the Nobel Prize
Russian writer Boris Pasternak is most well-known for his classic novel Doctor Zhivago and for his lyric poetry. Pasternak was awarded the Nobel Prize in 1958, an honor he had been dreading for months before the award was announced.
Because of his popularity throughout Europe, Pasternak had been accused of holding anti-Soviet beliefs. He feared that the award would cause harm to his family and in fact on the day he was announced as the winner, the Literary Institute in Moscow demanded all students denounce Pasternak and his anti-Soviet ideals. It was believed at the time that Pasternak was colluding with the west to work against his country and harm the credibility of the Soviet Union (and in fact in 2014 the CIA admitted that they had been secretly distributing copies of Doctor Zhivago in a large scale propaganda campaign, helping the novel reach Soviet citizens that otherwise would have not had access to the work). Pasternak sent a telegram refusing the prize but a trial was still held and many believe that he would have been imprisoned if not for the international protest his arrest would have garnered. It was not until twenty-nine years after his death that Pasternak's son was permitted to travel to Sweden in 1989 and collect the medal that was his father's right.
Wole Soyinka: First
Black Winner
Wole Soyinka was the first black person to win the Nobel Prize in Literature as well as the first African. He was named a laureate in 1986 for the same plays, novels, short stories and films dedicated to speaking out against the horrors of apartheid that led to his arrest and imprisonment during the civil war. He used his acceptance speech to continue to speak against apartheid, dedicating his words to Nelson Mandela. He holds numerous honorary doctorates from universities around Nigeria and has taught all around the world. He has produced over thirty plays in his lifetime and continues to write today
Rabindranath Tagore: First
Asian Winner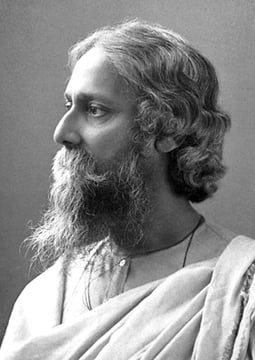 Rabindranath Tagore, born in Calcutta in 1860, was the first Asian winner of the Nobel Prize in Literature, as well as the first non-European winner. He is credited with reshaping the Bengali literature. His work inspired the Sri Lankan national anthem, and birthday celebrations are held in his honor every year, including the Tagore Festival in Urbana, Illinois. He is widely considered the greatest Bengali writer ever.
In his lifetime he wrote poems, novels, short stories, and plays, as well as thousands of songs. He was offered knighthood in 1919 but turned it down in protest of the Jallianwala Bagh massacre and spoke our fervently in favor of Indian independence. He used his Nobel Prize winnings to finance his Visva-Bharati University where he spent much of his time teaching. He died in 1941 at the age of 80.
In 2004 his Nobel Prize medal was stolen along with some of his other possessions from the university's vault. The prize committee produced two replicas of the medal, one gold and one bronze, which they presented to the university in honor of Tagore and to help compensate for the theft.
Gabriela Mistral – First Latin
American Winner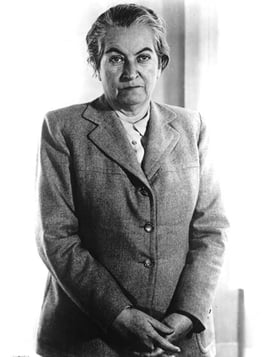 Chilean teacher, poet, and diplomat Gabriela Mistral became the first Latin American writer to win the Nobel Prize in Literature in 1945 for her poetry which the committee said embodied the aspirations of the Latin American and Spanish-speaking world. Mistral's poetry focused on numerous topics, such as womanhood, motherhood, and national identity. She devoted much of her life to teaching and wrote and campaigned often for education to be made more available to children of all social classes. She taught all over the world and at one point was poet Pablo Neruda's teacher.
Her face appears on Chilean currency and her poetry is taught in schools as some of the most important works of Chilean literature. She never married and there is some speculation that she was homosexual. Though there is no concrete proof of Mistral's sexuality, if it is true, she would be the first lesbian recipient of the Nobel Prize in Literature as well as the first Latin American laureate. Mistral died at the age of 67 of pancreatic cancer.