Who doesn't love Winnie-the-Pooh and his friends from the Hundred Acre Wood? Whether you're an A. A. Milne purist or a fan of later Disney iterations, the charm of Pooh, Christopher Robin, Piglet, et al. is undeniable. Why not take a moment to enter into their world of honey, heffalumps, and hums? Answer six brief questions to determine which Winnie-the-Pooh character you would be.

Eager for more Winnie-the-Pooh? You may enjoy the following blog posts: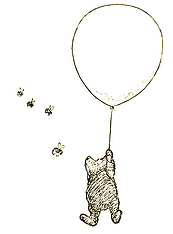 The Origins and Legacy of Winnie-the-Pooh
17 Essential (and Authentic) Winnie-the-Pooh Quotes
The Big Business of Winnie-the-Pooh
Alternatively, you may browse Winnie-the-Pooh books and first editions here.
If you'd like to take more bookish quizzes instead, just click below: